About Georgia + Millwork Bakery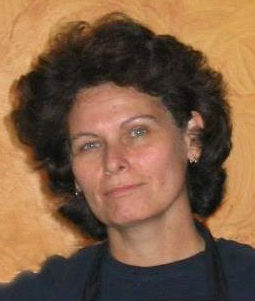 Georgia Mihalakis
owner | artisan baker
Georgia Mihalakis began her life journey in Dubuque, Iowa, one of nine children born to Louie and Margaret Mihalakis ... and has always said that her baking philosophy comes from her mother, Margaret.
Georgia: "The food my mother made us as children was simple, good, varied, and delicious. And there was an emphasis on fresh. The saying ...
'Food is medicine, and medicine is food'
... was the rule in our house. We take our cue from the family table and believe that the more the true flavor of the food dominates, the healthier that food will be. This is nothing new, there is no fancy marketing – it is simply a mother-oriented approach to good food and good health."
This baking philosophy truly inspired Georgia's life work: After some foundational training in the art of bread and pastry baking, this creative innovator has crafted an impressive array of breads, cookies, pastries, cheesecakes, quiches, and more.
From our family table to yours: Bon Appétit!
Millwork Bakery
artisan | European | gourmet
The officially-named Millwork Bakery began in late 2017. It's the next (and perhaps, best) version of Georgia's work as an artisan baker. Through Millwork Bakery, she regularly creates a variety of baked goods, including artisan breads, pastries, cookies, and more.
And the ingredients? Millwork Bakery products are made from the highest quality ― often, most costly ― ingredients: butter, heavy cream, milk, and cream cheese. With a minimal amount of sugar. Many products also contain pecans or walnuts and delectable dried fruits.
Georgia: "We use natural, whole-grain products, whenever possible. We also like to create different kinds of bread that you can't get other places. Breads like Paleo Nut Bread and Black Bran Rye Bread. We'll also offer gluten-free options from time to time, like the Coconut-Cashew Bread."
In recent years, the bakery had operated in Dubuque's Warehouse District supplying its European-style pastries and artisan breads for her cafés' signature sandwiches.
Many Dubuquers will fondly remember that from 2002 to 2017, Georgia owned and operated Café Manna Java on lower Main, Café Manna Java West on Kennedy Road, and Manna Java World Café in the Roshek Building on Locust Street. These eating establishments specialized in much-loved fresh quality food, made-from-scratch pizza, and espresso-based coffees.